Understand the Top 5 Reasons Your Business Needs Social Media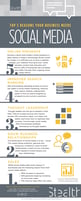 Don't leave sales on the table. Learn how you can use social media to enhance your marketing efforts to build relationships, be the expert in your field, drive more traffic to your website, and yes – even generate leads.
Ready to learn more? Simply complete the short form to the right to view the infographic now.
Then feel free to reach out to us if you're ready to jumpstart your own social media efforts or visit our website for case studies, blog articles and more.
Please note your email will not be shared with anyone, and you may control the amount of valuable information you receive from Stealth or unsubscribe at any time.