In-house staff or creative agency?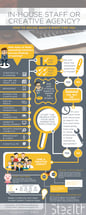 Deciding whether to hire more employees or engage a creative agency for your ongoing and new marketing initiatives can sometimes feel like a daunting decision.
This infographic walks you through a simple decision process to help you determine which approach is best for you.
Dive in to make your decision today – and get those marketing projects rocking and rolling! Just complete the short form to the right to view the infographic now.
Please note your information will not be shared with anyone, and you may control the amount of valuable information you receive from Stealth or unsubscribe at any time.